I have enjoyed the opening 3 matches of the World Cup. Plenty of talking points, a few good goals, one great one and already some stars are emerging, Neymar, Oscar & Robben.

I've always liked the Dutch. Mind you I like the Spanish too. But serious performance from Holland. Robben and Van Persie the household names producing the goods. De Jong the midfield general. There's some young players there I've a feeling I'll hear more about before the tournament is over.

Spain are a perfect example of complacency in a great team and the management showing too much loyalty to the stars that have served him so well. 16 out of the 23 man squad featured in South Africa and you look at the starting team, how long have Casillas, Ramos, Xavi, Iniesta and Xabi Alonso been on the scene? Pique, Busquests, Silva and Jordi Alba are hardly new either. When the decline starts, it has a habit of being a bit on the spectacular side. Interesting to see where Spain go from either. The big names must be in danger of losing out.

Loyal2TheRoyal

GAA Elite





Meath


Number of posts

: 3113



I think that this Spanish side of the last 7-8 years is the best international side that the world has seen. At their peaks, others have rivalled them, but no other team has produced sustained and consistent brilliance for so long.

However, time has caught up with them, and the legs have gone on some of their great stars. In displaying loyalty, Del Bosque has made the mistake that almost every manager makes, but he also has a chance to put things right. There's no doubt that there is talent on the Spanish bench, and Del Bosque must give it a chance against Chile. To be fair, it's hard to see Spain turning this around and appearing in the latter stages, but he has to throw caution to the wind and see what comes of it.

Holland were superb. I agree with Loyal about some of the lads who came off the bench also looking good, but Robben in particular was sensational. For all the talk about Messi v Ronaldo, Robben at his best can be almost as electrifying.

Brazil were functional but not great last night. Neymar received the plaudits, but it was Oscar who was the pick of the boys in canary yellow. They'll have to improve, but they are well capable of doing so. The atmosphere in Sao Paolo seemed to be electric, especially when the crowd belted out the anthem before the game. Great start to the tournament.

Thomas Clarke

GAA Elite





Tyrone


Number of posts

: 4209



Great to see our loyal servant looking happy in Brazil.....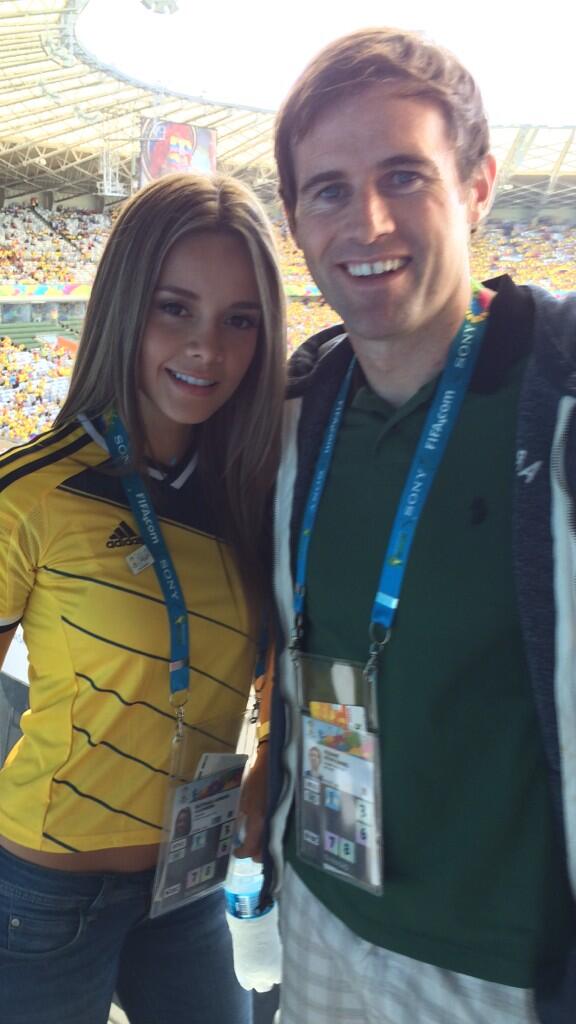 Boxtyeater

GAA Elite





Leitrim


Number of posts

: 6970



England are out with a round of group games still to go. England are a decent side, honest and hard working, but they don't have one truly outstanding player (on current form). I actually thought England done well in both games they played but they spurned the few goal opportunities they had and they were caught out badly for the goals they conceded. There is probably an element of hard luck with their early exit.

Spain are also out and and unlike England, deservedly so as they were absolutely hopeless in both their games. This is probably a classic case of a great team falling for their own hype and taking their eye off the ball. There's suggestions that they're finished, I wouldn't go that far. With a few minor changes, I think they might have a kick or two in them. But they were pathetic at these finals and some of their great players will no doubt go back to their clubs and enjoy more great days but when it comes to the national team, they would want to take a look at themselves.

Holland's win over Spain has been put into context by the latter's subsequent performance against Chile plus Australia putting it up to the aforementioned Holland. They have exciting full-backs who like to attack, a general in De Jong in midfield and a serious attacking trio. Still they came into this tournament being written off and I would still say they have loads of questions about them.

Another team who I was writing off before the tournament but won't be doing so anymore is France. They have looked very strong in both their opening games and I wouldn't be buying the Honduras and Switzerland aren't good argument. The Swiss are usually a good yardstick and France tore them asunder. The team on paper look really strong with by my reckoning 6 Premier League players in the starting 11 plus Cabaye a former Newcastle man and remarkably Nasri and Clichy not even in the squad. Varane is a classy centre-half and I'm still trying to my head around Carlo Ancelloti's decision to leave him out the Real Madrid starting team.

Mentioning good centre-half there's no arguing the best one at Brazil is Mats Hummels, an inspirational figure at the heart of Borussia Dortmund's renaissance, I hope he's not any worse for the injury he picked up in the Portugal game. On matches to-date, Germany have been the most impressive and would probably be the most likely European team to win it as there's less of an unknown with them as there is with France.

Great tournament so far though.
Some great games, both England games I thought were very good, also the demolitions Holland and Germany did on the Iberian sides, Spain and Portugal
Some great goals, Van Perise's header, Tim Cahill's volley, Messi's one as well
Some great players, James Rodriquez, Neymar, Pirlo, Hummels, Robben, Benzema, Blind, Alexis Sanchez, Bryan Ruiz, Toni Kroos, Cuadrado & Suarez
Some great moments, Colombia's goal celebrations


Loyal2TheRoyal

GAA Elite





Meath


Number of posts

: 3113



With the top half of the draw now 2/3 complete, there could be some interesting last 16 clashes. Still there'll be last round drama. Group A looks like Brazil will top it but Croatia and Mexico will meet to decide who finishes second. Spain and Australia are out of Group of B but Chile and Netherlands will be a contest to see who avoids Brazil. Colombia own Group C and the Ivory Coast are likely to join them in the last 16. Costa Rica are quite amazingly in charge of Group D and only one of Italy and Uruguay can join them. Most likely last 16 pairings:

Brazil vs Chile

Holland vs Mexico

Colombia vs Italy

Costa Rica vs Ivory Coast



Loyal2TheRoyal

GAA Elite





Meath


Number of posts

: 3113



Some good analysis there, Loyal. At a stretch, I can only see 6 potential winners:

Brazil and Argentina - neither have looked great so far, but the talent is there and it will take a very good side to beat either.

Germany and France - the 2 form sides and both in with a real shout.

Netherlands and Chile - fast, fit and with good forwards.  The dark horses (longshots).

Thomas Clarke

GAA Elite





Tyrone


Number of posts

: 4209



I would agree with those 6 teams as potential winners but I would have Colombia in there before Chile and possibly Holland and maybe even France. I thought once they got to grips with Greece, mainly Samaras, they were impressive and while I only seen glimpses of their match win with the Ivory Coast, I would say that was another impressive win as the Cote d'Ivoire are probably the best African team in the competition. By the way I hope an African side can go on a decent run, maybe even make a semi-final. The most likely side to that are the Ivory Coast.

I would also not rule out Uruguay going on a run because they have a match winner coming back to the top of his game in Suarez. If he can shake off this injury, he'll be a handful for every defence Uruguay come up against.

Going back to England, this positive about young players getting their chance is completely ridiculous. First of all, Sterling and Barkley are the only ones who are genuinely young. Henderson, Welbeck, Sturridge, Lallana and Wilshere are all nearing their mid twenties. That is not young. Secondly Henderson and Welbeck will do well to feature at another major tournament because a different manager could have a totally different view of them. In two years time I reckon Welbeck will be playing for a team like Tottenham and Henderson could be with Newcastle or Stoke. Sturridge is alright but he's only starting because the other centre forward options are Rickie Lambert and Andy Carroll. England don't have really good players. The defence at this competition has been a liability with only one of them having Champions League experience and even at that Gary Cahill is no Terry and Ferdinand. When you look at the back-up options - Jones and Smalling who were only brought for their versatility - that tells it's own story. They will have a completely new defence at the next Euros. Gerrard and Lampard have been great players. Maybe Barkley could be another Gerrard/Lampard, Wilshere has been a let-down with all his injuries. In 2 years time Rooney will be the Gerrard of the Euros having his swansong, only getting in the team for his experience and reputation. So the future is not very bright at all for England.

Loyal2TheRoyal

GAA Elite





Meath


Number of posts

: 3113



I think it's fair to say neither of last night's games were fitting for the occasion of World Cup Quarter-Final. Despite that they were competitive, there were talking points and there were still unmissable.

Let's start with Germany vs France. Not a classic match but it was a classic performance from the Germans in game management. As I said before Hummels is the best defender at the tournament and it was his goal that dictated the pattern of play that was to follow. He was a colossus at centre-half with perfect tackles and some timely interceptions. I was not surprised to see him awarded FIFA Man of the Match.

The game was a stalemate in midfield and the midfield six - Matudi, Pogba, Cabaye, Kroos, Schweinsteiger or Khedira left very little mark on the game. Pogba did show an occasional glimpse of class and Kroos was dangerous with his corners and free-kicks.

Don't forget the Germans are without the Borussia Dortmund trio of Schmelzer, Gundogan and Reus. All certain starters. One other thing Muller is a great player, a tireless worker and a very tricky customer dribbling. He's the favourite with me to be player of the tournament now we won't be seeing any more of James Rodriguez or Neymar.

Brazil's tactics in the second quarter-final were appalling and they were only slightly less appalling than the dreadful performance of the referee. How he only gave out four yellow cards was unforgivable. Surely his performance must be looked at.

Colombia came to play football and they weren't doing a bad job despite conceding a soft goal early on. That was when Maicon, Fernandinho, Paulinho and Hulk decided to kick everything around them. And they were all guilty all the Brazilian players but one or two were relentless and the referee did nothing. In fairness to Neymar I don't think he engaged in any of it.

Colombia came out after half-time and certainly matched Brazil in the physicality stakes and it was free-kick after free-kick. In the end Brazil were hanging on and there was no effort to retain possession in the last 20 minutes. At the end of the game I felt Colombia were better team and deserved to be in the semi-final.

Brazil without Neymar and Thiago Silva are going to be a lot more vulnerable and Germany are probably the one team you don't need when you're vulnerable. They have a good balance to their side, some good options off the bench and will surely have too much experience to allow themselves be bullied for a whole half like the Colombians.

Loyal2TheRoyal

GAA Elite





Meath


Number of posts

: 3113



Brazil were a disgrace, and akin to Holland in 2010. Scolari is a fraud of the highest order, if this is the best that he can turn out, especially given the considerable resources at his disposal. Neymar's injury is unfortunate for him and the tournament in general, but for his manager to cry foul at vicious opponents is more than a bit hypocritical.

Colombia could possibly have beaten Brazil had this been an open, flowing game, but the hosts were never going to risk that happening. They turned it into a Tyrone SFC match, and the referee (angling, as they all have been when favouring Brazil, for a chance to officiate the final) let it happen.

David Luiz gets a lot of stick, but I like him. Big heart and seems like a decent bloke too. His free kick was brilliant.

I'd agree with Loyal about the understated brilliance of Thomas Muller, but I still think that the player of the tournament will be Lionel Messi, especially if he carries his side to the final.

James Rodrigues is a fabulous footballer. If he is not yet in the Messi/Ronaldo class, then he must surely be a notch below with Robben, Suarez and the likes.

Thomas Clarke

GAA Elite





Tyrone


Number of posts

: 4209



Phil Scolari's Brazil were so horrible to watch last night, it made me long for my first sporting love.

They may not have won the world cup, but 1982 gave us the best Brazilian side in my lifetime, and perhaps the greatest of all-time. Their defeat in 1982, to an inferior Italy side, prompted a change in Brazilian footballing philosophy that resulted in them never again being as magical.

Faced with the dilemma of which of his 5 playmakers to leave out of midfield, Tele Santana decided that the correct answer was 'none of them'. Cerezo and Falcao were at the base, while Socrates, Zico and Eder were further forward. They were ably supported by the marauding left back Junior, while the likes of Oscar, Leandro, Luizinho and Serginho provided magical moments too. This was carefree, joyous soccer at its ultimate - we'll never see the game played like this again.

Not only was this arguably the best side never to win a world cup, there are many who rate them as the best side ever to play in the tournament.




Thomas Clarke

GAA Elite





Tyrone


Number of posts

: 4209



The second night of quarter-finals was as frustrating as the first. Neither will be remembered for too long although at least the two best teams got through to set up a repeat of the 1978 final.

Belgium were considered the tournament's dark horses from the outset but stumbled through one of the easier groups and were fortunate enough to beat USA in the Round of 16. They had no answer to Argentina's defensive resistance once going a goal behind last night. I think Belgium were shown up to be ordinary enough especially with one of their more iconic players Hazard having a disappointing tournament. They didn't have enough in attack despite the odd good moment from De Bruyne.

Argentina themselves haven't been great all tournament and in my opinion are very reliant on Messi and Di Maria to spark them into life every now and again. Their goal was the result of a favourable deflection but it was finished well by Higuain. Once they got the lead, they were satisfied that they didn't need to take any more risks and they just absorbed all the Belgian pressure without ever having their lead seriously threatened.

The last of the four quarter-finals was probably the best despite it being scoreless for 120 minutes. At least you had an underdog giving a brave account of themselves and a tournament favourite launching an onslaught on the underdog's goal.

To be honest it would have been a disappointment if the Dutch didn't get through as they were clearly the better side in all four halves. Sneijder rattled the goalposts a few times, Van Persie had one deflected onto the crossbar and there was one cross in front of the goal which amazingly everyone missed.

There's no doubt about it the best team won but Costa Rica can be happy with their run. Unfortunately their penalties were very tame in comparison to the five bullets they hit against Greece in that shootout.

Van Gaal looked like the calmest man in Brazil during the game and the players played in a similar vein. They were very patient and for the 120 minutes played exactly the same. He seems to have them playing in great order altogether. The decision to change goalkeepers for the shootout was quite amazing but it paid off.

If someone had said to me before the tournament that it'd be a Netherlands - Argentina semi-final, I'd have been predicted an Argies win. But on games and form to-date, I'd side with the Dutch.



Loyal2TheRoyal

GAA Elite





Meath


Number of posts

: 3113




---
Permissions in this forum:
You
cannot
reply to topics in this forum